Adetoun – Peace & Unity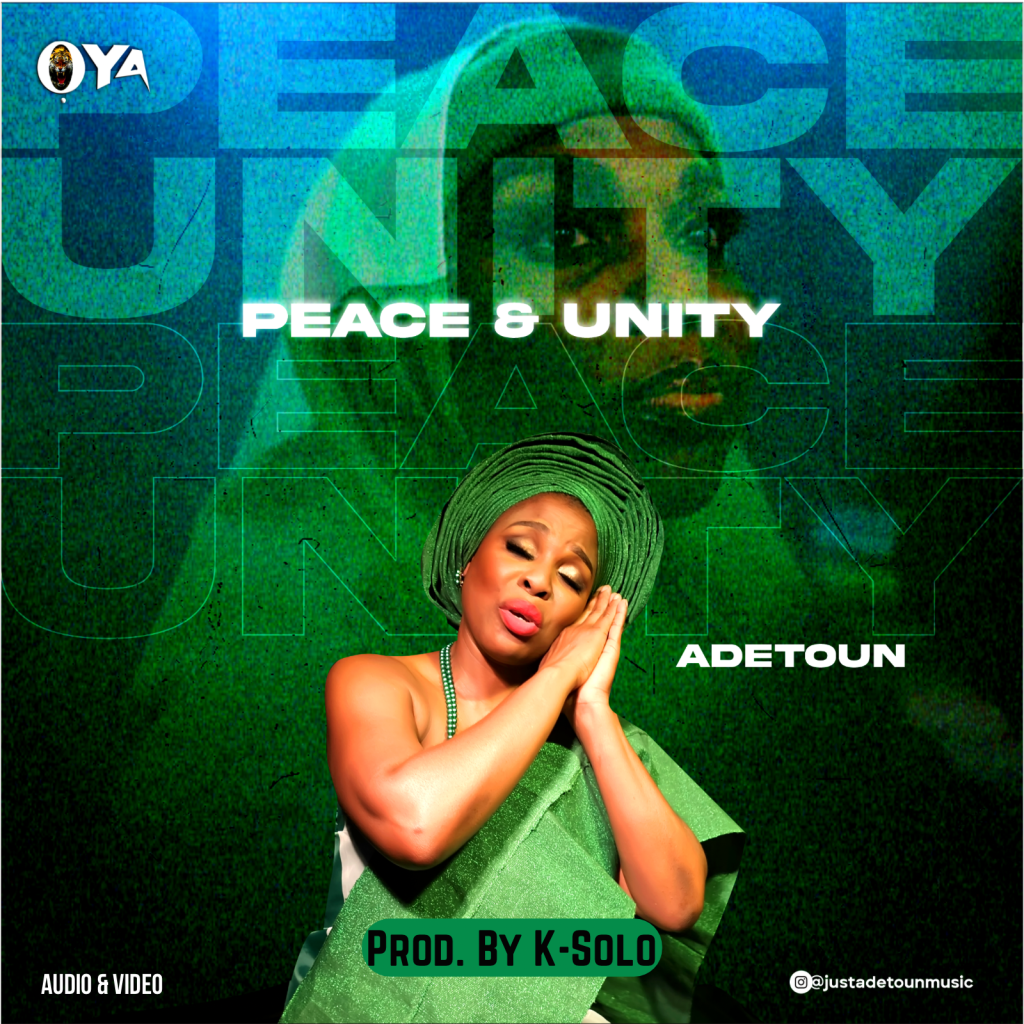 Adetoun – Peace & Unity Mp3 Download
Nigerian Based Gospel artist, songwriter, and musical director ADETOUN is back with her first single of 2023, just in time to encourage Nigerians during the Elections this year. Titled 'PEACE AND UNITY', the Conscious song is a Piece with an immediate effect to fans and lovers of Nigeria, as it samples an alternative soul spin to the track and turning into a modern contemporary record.
'PEACE AND UNITY' was Written by ADETOUN, and Produced By the Legendary Producer K-SOLO, with her Band staying true to the classic chorus, "Nigeria is our Home, Nigeria is our Home".
Speaking about the inspiration behind her new 'PEACE AND UNITY' single, ADETOUN says, "The nostalgia of the past & parent happenings in Nigeria, understanding that we need to stay together stay strong regardless of our Tribes or Religion. Also knowing that what we Build Today is what our Children will Inherit.The thoughts and pain inspired me to write the lyrics.
The melody and musical instrumentation also brought a new, vibrant and deeper interpretation of the song. The message is that despite the challenges we may face today or in the future, we have hope in NIGERIA, because GOD lives".
Adetoun Bolanle Onajobi Popularly known as JUSTADETOUN is a Spirit Filled unconventional Gospel Artist and founder of  O.Y.A Music, a well celebrated Nigerian gospel artist. She has worked and partnered with several Nigerian gospel artistes, producers, and gospel ministers.
She also served as Chairman and CEO of Feed a Child Community Initiative, an organization that advocates for the rights of children and provides free medical empowerment, subsidized nutritional supplements and foods, and coordination of funds raising for the less privileged.
CEO of Babyology and Babyology Wellness and Nutrition Clinic Ltd
Her passionate commitment to Christian music has paved the way for her & impacted so many lives both home & abroad.
Listen, Download "Adetoun – Peace & Unity Mp3 Download" and Enjoy!